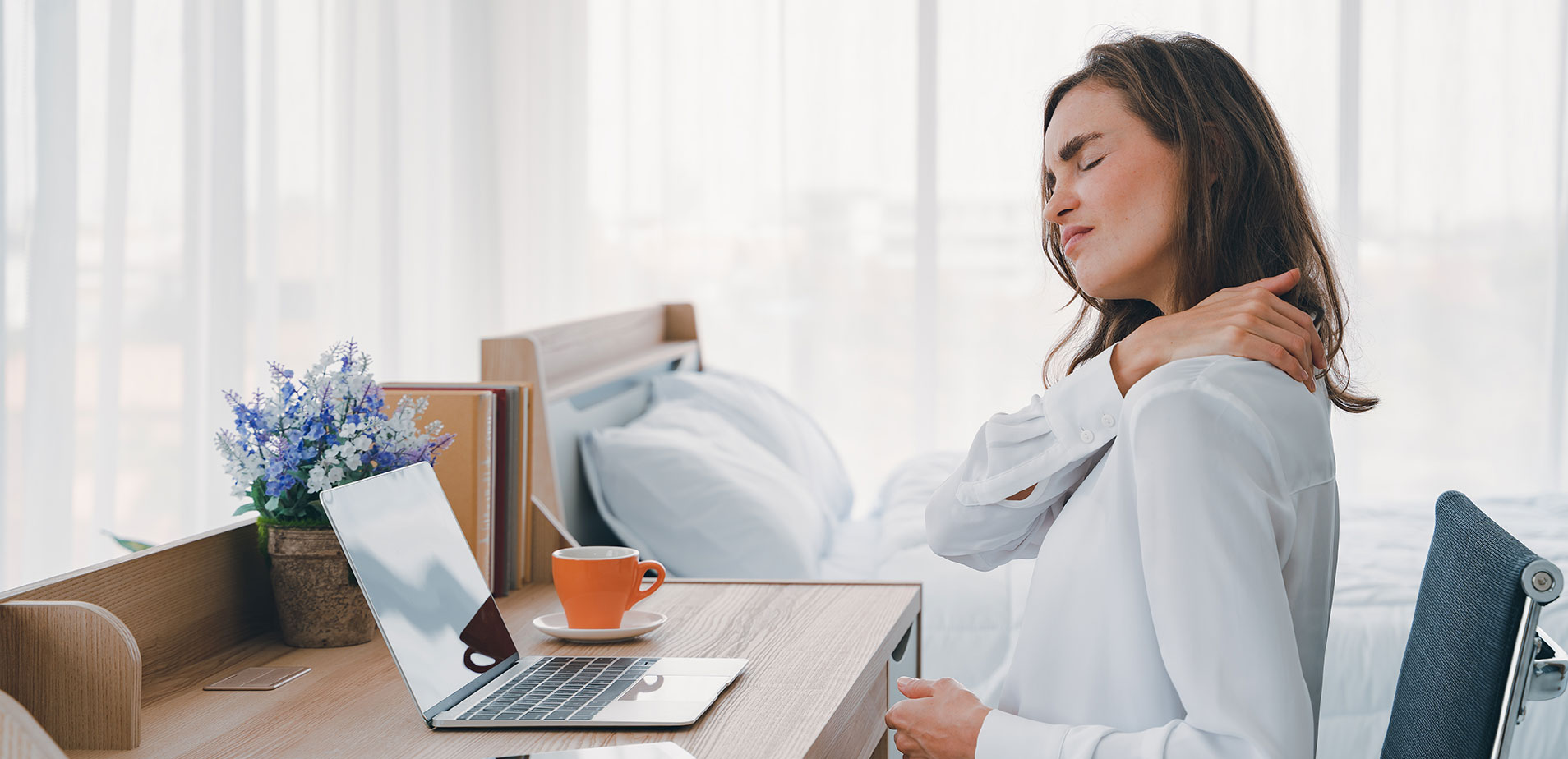 NECK PAIN: SYMPTOMS, CAUSES AND TREATMENTS
Neck pain is a common condition that should not be ignored, affecting individuals of all ages. Seeking proper diagnosis and treatment can help alleviate symptoms and prevent further complications associated with severe or persistent discomfort.
Research suggests that approximately 10% to 20% of individuals experience neck pain at any given moment. Such pain can significantly impact daily life, leading to reduced work productivity, limitations in physical activities, disruptions in sleep quality, and overall functional impairment. The duration of neck pain can vary, with acute cases lasting from a few days to weeks and often showing positive response to treatment and self-care measures.
SYMPTOMS 
Neck pain can present a range of symptoms, such as difficulty in neck movement, soreness in the neck area, muscle spasms, and pain that radiates. Individuals may also experience sensations like numbness, tingling, or pins and needles in the neck or upper extremities, along with accompanying headaches from the neck region, exacerbating the discomfort.
CAUSES 
Neck pain can have various causes, including:
Neck injuries: resultimg from incidents like whiplash in car accidents, sports injuries, work-related incidents, or falls.

Stress and tension: Emotional and psychological stress can manifest as muscle tension in the neck, resulting in pain and discomfort.

Poor posture: Prolonged periods of maintaining a hunched position while sitting or standing can strain the neck muscles.

Muscle strain: Overuse, sudden movements, or maintaining poor posture.
CONDITIONS THAT MAY CAUSE NECK PAIN
Herniated discs: The cushions between the vertebrae in the neck can herniate or bulge, putting pressure on nearby nerves and causing pain.

Arthritis: osteoarthritis, rheumatoid arthritis, and other forms, can impact the joints in the neck, resulting in discomfort and restricted mobility.

Nerve compression: Conditions like cervical radiculopathy or spinal stenosis can compress the nerves in the neck, causing pain and other symptoms.

Bruxism and jaw pain: the habitual grinding or clenching of teeth, and jaw pain can contribute to pain in the neck.
OTHER CONDITIONS:
Musculoskeletal Pain

Myofascial Pain

Cervical Dystonia

Post-stroke spasm

Facet Syndrome

fibromyalgia
TREATMENT OPTIONS FOR NECK PAIN
Discover the treatments available at our Pain Management Clinic to alleviate chronic neck pain: